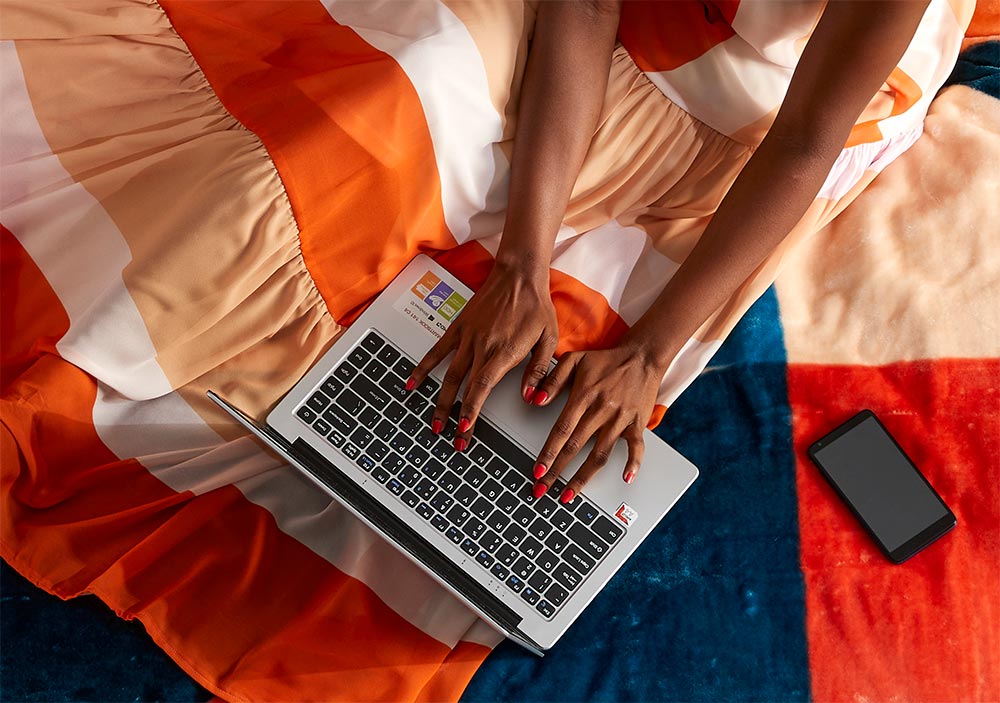 1 in every 2 transactions now from digital platforms
Credit extended on digital channels now 57.7% of all credit
Revenue up 7.4% to R1.7 billion
Loan disbursements doubled to R1.6 billion
Retail sales growth of 8.5%, driven by digital
7% reduction in debtor costs
Trading profit before once-off costs up 15.2%
Earnings per share up 9.8% to 114.7 cents
Headline earnings per share up 18.7% to 122.6 cents
Dividend resumed at 47.0 cents per share
HomeChoice International plc is a leading FinTech business and omni-channel retailer in southern Africa with a strong digital footprint. The group has been selling financial services and homeware to its loyal base of close to 920 000 customers in the urban, female, middle-income mass market in Southern Africa, for more than three decades.
Revenue for the six months to June 2021 increased by a creditable 7% to R1.7 billion, trading profit by 15% to R212 million and headline earnings per share by 19% to 122.6 cents. The Financial Services division now makes up 70% of total trading profit. The interim dividend has been resumed, with 47 cents per share being declared, after it was withheld in the prior year to conserve cash and reinvest in the business.
Executive chair, Shirley Maltz, commented: "Our interim results reflect our continued digital growth in our FinTech and Retail divisions, taking advantage of the structural shift to digital mobile-first transacting, accelerated by the Covid restrictions. The group has invested significantly in technology in recent years, with cloud-based platforms, digital marketing, and social media monetisation, as well as machine learning algorithms and data driven customer acquisition to drive digitalisation and enhance the customer experience. We have been reaping the rewards of this investment during the Covid restrictions – some 92% of all financial transactions and 32% of retail transactions were concluded digitally in the past six months. Digital transactions in South Africa still comprises less than 3% of all transactions, and 2 in 3 respondents in a recent survey indicated that they would shop more online in 2021, providing significant scope for growth."
Outstanding performance in Financial Services
The FinTech business had an exceptional six months, strategically and carefully growing loan disbursements by 99% to R1.6 billion and accelerating market share gains. 80% of the disbursements were made to our existing loyal customers with proven credit performance. In 2020, the group consciously cut back on loan disbursements to preserve cash and curb credit risk during the Covid-induced lockdowns. FinChoice increased its active customer base by 11% to 242 000 in the six months and grew its loan book by 35% to R2.2 billion, its insurance premiums by 40% and its credit backed FinChoice MobiMoneyTM wallet active accounts by 62%. FinChoice's trading profit increased by 88% to R139 million, notwithstanding lower interest rates and higher Covid-related death claims.
Significant cash was invested in FinTech growth during the period. Despite this investment, the group remains conservatively geared with a net debt to equity ratio (excluding property debt) of 19% and cash resources of R236 million and undrawn facilities of R335 million to support further growth.
HomeChoice international has embarked on an exciting initiative to broaden its emphasis on financial services. The Fintech business provides a strong technology platform from which to launch a stable of consumer FinTech businesses. It already provides personal loans, a digital-only credit backed wallet, insurance and digital payments that continues to attract an active and loyal mobi-first customer base. FinChoice aims to expand the insurance portfolio and to add additional utility in the form of QR code payments, merchant point-of-sale integration, and the ability to do money transfers to capitalise on its technology and ability to attract customers.
Retail remedial plan gaining traction
The Retail business increased sales by 9% and revenue by 5%. Trading profit declined by 19% to R61 million. The business was also affected by R29 million in once off impairment of software and restructuring costs. Retail is gaining traction in its recovery plan aimed at improving margins and profitability. Remedial actions implemented improved gross profit margin from 40% in H2 2020, to 45%. The business attracted 106 000 new customers and experienced a 29% sales growth from existing customers' spend, testament to effective customer service and retention strategies. One in four sales is acquired via digital channels. HomeChoice's Click and Collect service available at its retail showrooms, ChoiceCollect containers  and 1 000+ collection points, increased its contribution to total deliveries to 19%, providing great convenience to customers.
Debtor costs reduces post-COVID, conservative provisions
Robust growth in the FinChoice loan book contributed to a 16% growth in gross trade and loan receivables to R4.1 billion. The group's strict credit granting criteria, a strong focus on existing customers with known credit risk, and effective use of digital fraud tools, led to pleasing improvements in credit book quality and culminated in lower provision rates and debtor costs. The group has continued to maintain conservative provisioning levels, with FinChoice's stages 2 and 3 cover increasing from 69% at year-end to 74%.
Outlook
Maltz said that while the low growth economic outlook continues, the business model has proven defensive, and the group has the strategic focus and a strong cash position to support further growth. The focus for the remainder of the year will be to drive digital momentum in Financial Services and to continue to course correct the Retail business. "Our customer continues to demonstrate her resilience despite challenging times. We know that she loves our product and by driving customer experience, digital transformation and omni-channel convenience, HomeChoice will continue to deliver value, as well as a great experience, to ensure that she continues to shop with us for generations", concluded Maltz.