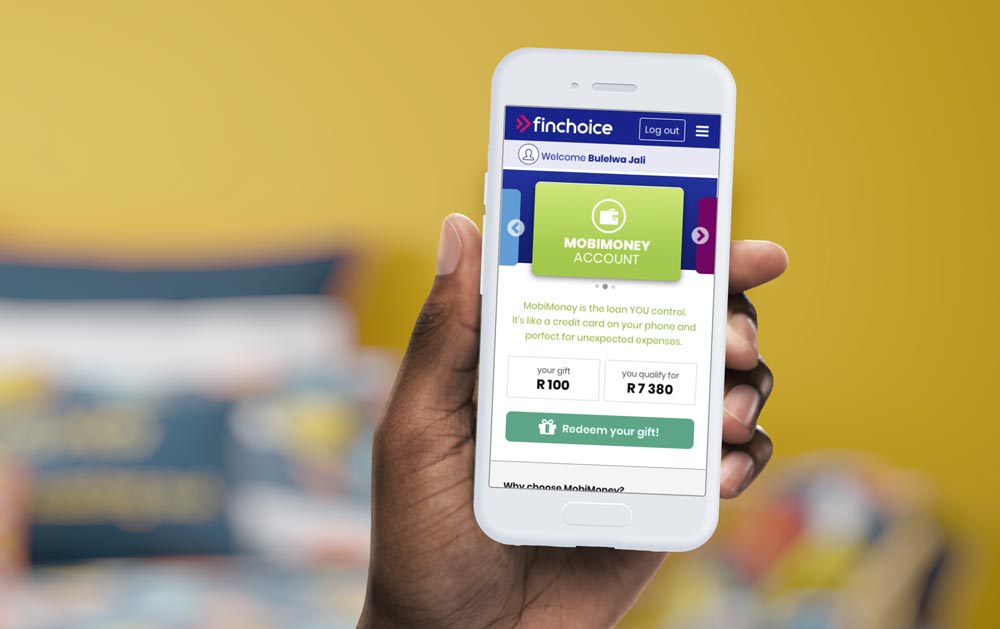 271 000 new customers acquired
Revenue up 7.3% to R3.5 billion
Retail sales up 4.9% to R2.0 billion
Loan disbursements up 27.0% to R2.3 billion
Stand-alone insurance premiums up 48.0%
Cash conversion rate increased to 58.2% of revenue
Investments in technology and improving customer experience continue
Milestone R2 billion credit extended on digital channels
EBITDA declined by 8.5% on lower gross profit margin
Headline earnings per share down 14.1% to 436.0 cents
Annual dividend of 166 cents, down 14.4%
Cape Town, 12 March 2020. HomeChoice International PLC is a leading participant in southern Africa's retail homewares and financial services sectors and has serviced the expanding urban African female middle-income mass market for more than 30 years. The Group today announced a 7.3% growth in revenue in an exceptionally difficult retail environment. It delivered a 27.0% growth in loan disbursements, retail sales growth of 4.9% and a 48.0% increase in stand-alone insurance premiums, with the latter assisting to further diversify the Group's revenue streams. Other highlights for the year included the acquisition of 271 000 new customers, well contained expense management and a year-on-year improvement in cash conversion.
Profit conversion was impacted by strong promotional activity required to clear a surplus stock overhang from the 2018 SAPO strike, debtors' costs which increased on the back of higher bad debt write-offs and non-comparable movement in impairment provisions, and continued investment in strategic projects to promote growth. These factors culminated in a 14.1% decline in headline earnings per share to 436.0 cents and an annual dividend of 166.0 cents, down 14.4%.
Gross trade and loan receivables increased by 9.2% to R3.8 billion, primarily due to the high loan disbursements during the year. Group debtor costs increased to 20.6% of revenue, with  Retail credit risk remaining well-controlled and corrective action being taken on credit limits granted in Financial Services.
Chief Executive Officer South Africa, Shirley Maltz, commented: "The financial results were a product of a tough economic environment as well as operational challenges. In this environment it is critical not to deviate from your long-term vision and we are pleased with the strategic traction that we have gained in 2019. We have been successful in accelerating our digital transformation, increasing the Retail footprint and improving our customer experience.  Our brands and products continue to resonate with customers, with our total active customer base increasing to 912 000 customers,  keeping us on well on track to achieve our target of 1.2 million customers by 2022."
Entrenching our customers' digital experience
Maltz said: "Our vision is to provide for our customers' lifestyle through digitally focused and innovative retail and financial services products and for the group to be a leading digital player in the mass market. "
Extending R2 billion of credit via digital platforms during the year was an important milestone for the Group, and the successful outcome of continuous investment in best-of-breed technology over recent years. A quarter of HomeChoice Retail customers are now registered for digital access with FinChoice registrations higher at 86%. FinChoice attracts digitally savvy customers, evident in 85% of all loan transactions being concluded on FinChoice's end-to-end digital processes. 58% of customers also possess our successful digital-only FinChoice MobiMoneyTM facility product. Digital engagement is further stimulated by sale of value-added services (airtime, data, electricity) using the MobiMoneyTM platform.
We increasingly use data to improve customer experience through personalised loan offers utilising external digital sources, digital catalogues with free data, quicker and simpler credit decision making and fraud monitoring. Our social media customer service platform seamlessly engages across eight  social media channels with 843 000 Facebook followers, 52 100 Instagram followers and 3.4 million customers by e-mail.  The Group also launched its first bots in the period with more than 22 000 webchats in the first three months.
Extending omni-channel sales and distribution options
Our omni-channel strategy, comprising digital channels, contact centres, sales agents, showrooms and container hubs, is designed to  provide customers with multiple touchpoints to shop from our broad range of own brand textiles and homeware as well as 145 external brands covering fashion and footwear, electronics and appliances – allowing them to shop how they want, where they want and whenever they want.
An additional four Retail showrooms and six ChoiceCollect containers were opened during the year. ChoiceCollect containers are located in township suburbs and, together with the showrooms, are key initiatives in our omni-channel offering, providing customers with convenience and choice. 10% of all deliveries are now click and collect from these channels, as more customers choose this convenient option for their orders. We have reduced our reliance on SAPO for parcel deliveries from 23% to 16%, and a further reduction is planned for 2020.
Outlook
"HomeChoice will continue to find opportunities to deliver value and a great experience to our customers, regardless of the sustained muted economic outlook",  said Maltz. "The vibrant informal economy continues to show growth as more individuals supplement their primary income with an income derived from the informal sector." Potential risks from the Coronavirus are being actively managed and we currently do not foresee it having a material impact on the group.
"With a loyal and expanding customer base, strong brands and continuous innovation, we believe we are well positioned for growth. We know that our customer loves our product and we drive customer experience, omni-channel convenience and our digital transformation to ensure that she continues to shop with us for generations. With this as a strong foundation, we remain well positioned to benefit from any improvements in the environment", concluded Maltz.